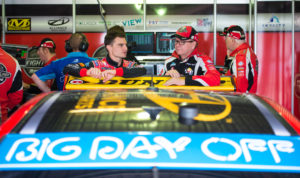 It was thrilling to be trackside to see Brad Jones Racing Supercars driver Tim Slade collect his maiden win, then back it up with another victory the following day at the Winton round of the Supercars Championship in May.
It was not only a special win for one of the most likeable drivers in pit-lane, it was also a rewarding outcome for the Albury based Brad Jones Racing team – the only Supercars team based in a regional city.
But this isn't where the feel-good story ends. Those watching the race couldn't help but notice the branding on the windscreen of Slade's race-car featuring The Big Day Off. My Supercars television colleagues were curious to know what it was all about.
It's a simple concept where workplaces register online at www.bigdayoff.org and offer up one or more days off work to be raffled by their employees.
The Big Day Off was created following a serious spinal cord injury suffered by James McQuillan during a football match in Albury in 2014.
A group of locals who were involved in supporting James, his family and his football club banded together to form the charity with money raised going towards research and the quest for a cure. It's hoped the initiative will become a long lasting fundraising legacy for others impacted by spinal cord injury.
The other element to this story is that the signage on Slade's windscreen was donated by a big hearted local business – McRae Motors in Wodonga.
McRae Motors Director Mick Blomeley said it was a fitting way to support a great local charity.
"Rather than McRae Motors receive the limelight this time, we were happy to donate our sponsorship to the Big Day Off and give the charity great exposure at the track and on national television," Mr Blomeley said.
With a pole position and two race wins – The Big Day Off certainly captured plenty of exposure. For more information on the Big Day Off visit www.bigdayoff.org